The De Beers Cullinan Blue , an extraordinary 15.10-carat, fancy-vivid blue, step-cut natural treasure and one of the most valuable blue diamonds ever to be offered at an auction, sold for a staggering amount of more than US$57 million at a Sotheby's Hong Kong Standalone Auction, held on April 27, 2022 at Sotheby's Pacific Gallery in Hong Kong. The diamond sold for US$57,471,960 working out to US$3,806,090 per carat, one of the highest prices ever achieved for a diamond at auction. The total price achieved by the blue diamond was well above estimated value of US$48 million, but however the whole stone price and the price-per-carat achieved fell just short of the world record prices for Fancy Vivid Blue Diamonds.
The landmark auction was marked by spirited bidding that lasted approximately eight minutes The bidding started at HK$ 310 million. Most of the time was spent, while the auctioneer Ian McGinlay was coaxing the bidders to surpass the HK$390 million mark (US$49.7 million) which was the final hammer price. After an eiight-minute bidding war among four hopeful buyers, and 11 bids the hammer was dropped at HK$390 million. The addition of the buyer's premium gave the final price of the diamond at HK$450.9 million equivalent to US$57,471,960. The winning bid was made by Wenhao Yu, Chairman of Jewellery and Watches Department, Asia, for his anonymous client with paddle number 101.
With a final price of $57,471,960, The De Beers Cullinan Blue just narrowly missed setting the record for the most expensive blue diamond ever to sell at auction. That title is still held by the 14.62-carat, fancy-vivid blue, step-cut, VVS1-clarity "Oppenheimer Blue," which sold in 2016 at Christie's Geneva, with a final price of $57,541,779, a difference of just under $70,000.
The auction record for price-per-carat is still held by The Blue Moon of Josephine diamond, the 12.03-carat, fancy vivid blue, cushion-shaped, Internally Flawless diamond that sold at Sotheby's Geneva in November 2015 for US$48,468,158 working out to a record-breaking price-per-carat valuie of US$4,028,941.
The 39.35-carat rough blue diamond that produced the De Beers Cullinan Blue diiamond, was discovered in April 2021 by Petra Diamonds in the Cullinan Mines in South Africa, and was later jointly purchased by De Beers and Diacore for US$40.2 million.
De Beers entrusted the cutting and polishing of the rough diamond to its partner Diacore, one of the most experienced master diamond cutters in the world, who worked on the extraordinary rough diamond for nearly an year, and transformed it into the masterpiece now known as the De Beers Cullinan Blue Diamond. Blue diamonds are among the rarest of all colored diamonds, the blue color being imparted by the presence of trace amounts of the rare element Boron, within the diamond's crystal lattice.
Describing the diamond as "exceptionally rare," the Sotheby's statement added that only five gems over 10 carats have ever appeared at auction. None have ever been over 15 carats, "making the appearance of this flawless gem a landmark event in itself."
Patti Wong, chairman of Sotheby's Asia, said in a statement: "It is truly a once-in-a-generation stone, and quite simply the greatest blue diamond of its size I have ever seen."
Records have been broken repeatedly in recent years for fancy colored diamonds, which are rarer than colorless ones. Colored diamonds come in many hues, but pink and blue are the most coveted. Blue diamonds are among the rarest and are found at levels four times deeper than most diamonds, according to the Gemological Institute of America.
Throughout the ages, blue diamonds were highly prized by collectors across the world – with spectacular auction results. Some of the most valuable diamonds were acquired by Hong Kong real estate tycoon, Joseph Lau.
In 2014, Lau spent US$32.6 million dollars on a 9.75 carat Fancy Vivid Blue diamond at Sotheby's New York. He named it "The Zoe Diamond" after his daughter. A year later, in 2015, Lau acquired a 12.03 carat Fancy Vivid Blue diamond for US$48.6 million dollars at Sotheby's Geneva. Dedicating to his daughter, he named it "The Blue Moon of Josephine" and it is still the most expensive diamond per carat in auction history.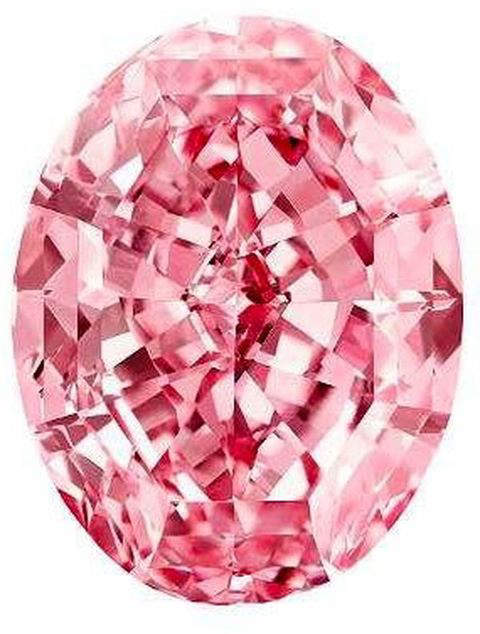 The record for the most expensive diamond of any kind to sell at auction remains with the "CTF Pink Star" aka the "Steinmetz Pink Diamond" a pink diamond that sold in 2017 for $71.2 million. On 3 April 2017, the Pink Star was sold at an auction in Hong Kong for US$71.2 million to Chow Tai Fook Enterprises